Understanding Bandwidth
Bandwidth refers to the amount of data that can be transferred from your Website to the world in a given period of time. In the Web hosting industry, this time period usually is one month. We provide a generous amount of bandwidth, but if you go over this amount, then you end up paying an extra fee.
50 gigabytes of bandwidth is quite a bit. For example, if the total size of all the files on your website was 1 megabyte, if someone visited every page in the website they would use 1 megabyte of bandwidth. 1 gigabyte = 1000 megabytes, so you would be able to have 50,000 people visit every page on your site in a month.
Bandwidth becomes more of an issue if you have large files such as video or audio that people download.
---
Accessing Bandwidth Info
To access Bandwidth information, log in to SiteControl, select the Manage Services tab, and click on the Stats and Usage link: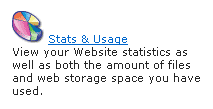 Then, on the Stats & Usage page, click on the Bandwidth link: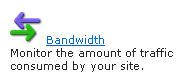 Viewing Bandwidth Information
On the Bandwidth page, information on the bandwidth used is displayed automatically, in bytes.
1000 bytes = 1 kilobyte
1000 kilobytes = 1 megabyte
1000 megabytes = 1 gigabyte
To view more detailed information, you can select a different beginning date and end date and clicking the View Stats button.